Where to Go
South Platte River – Cheesman Canyon
5Angler's Covey Bug of the Month 
September- Ants!
Bug of the month videos here 
Visit the blog here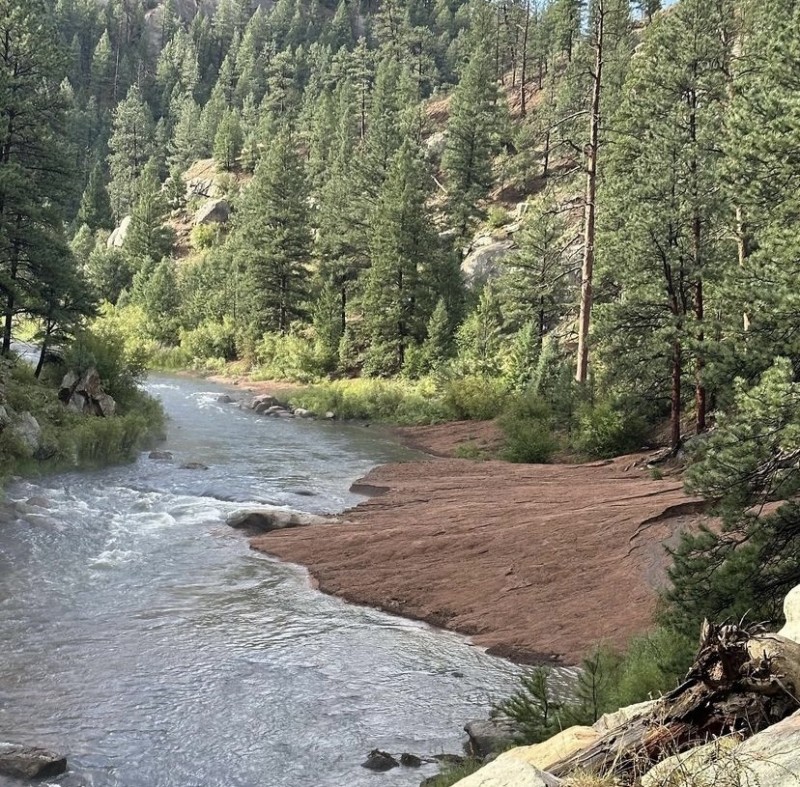 Photos: Pat Dorsey
Report Date: 9/22/2023
We have been getting a lot of inquiries regarding Cheesman canyon. Here is the short and sweet..
Is Cheesman fishable? Technically Yes. But...
The big thing to consider right now is the large amount of sediment has covered up many areas where the primary aquatic life was. While fish are not dying (yet), but their food sources have greatly diminished. This has lead to a lot less food for the fish, and they will undoubtedly suffer because of this fact. THIS is the reason we are choosing to let the canyon "heal" right now. The fish do not need any additional stress. Time will mend things here, but the area is still extremely sensitive.
If you do decide to fish here, please keep the fight short and sweet. Again, it may not look like it to most people, but these fish are stressed.
Current Conditions: 
The flows out of Cheesman came up a bit and are now at 191 cfs. This is in large due to the fact that we have no rain in the forecast.  The fishing is still good, and any flow increase should not do anything negative to the system. In fact, we would love to see the flows go up a ton and flush some of the sediment out of the river. But that is more wishful thinking than reality.. As the flows become lower overall, the river will get more technical and smaller, hatch specific patterns will again be the focus. Clarity is good and the sight fishing has been the name of the game. The good news here is we do not have to worry about water temps. The flows are being released from the bottom valve on the dam and are offering some nice cold water into the system. Water temps are in the 40's and 50's in the morning, so be prepared for that. It has been extremely busy in this area, especially on weekends.
Cheesman reservoir is currently 98% full.
Hatches: 
 The environment has stabilized for the most part and its back to the hatch specific bugs. Trico's, PMD's, some Caddis, Fall BWO's, and even some yellow sallies are all active. Dry fly opportunity is still there, and a hopper/dropper can be deadly this time of year. The Trico's are still hatching and the fish are gorging on them in certain areas. We have also started to see a few of the fall BWO's hatching. Some afternoons, we have seen some absolutely epic PMD hatches.
Tactics: 
For Nymphing- Depth and weight will be very important right now. The fish will spread out and feed opportunistically all throughout the river. The fish are feeding constantly during the above mentioned hatches.
Dry / droppers will again be an effective method to fish. Work hoppers with hatch specific beadhead nymphs. Dont be afraid to use those larger attractor patterns as your dry fly and get some weight on those droppers. And again, the dry fly fishing with hatch specific insects should be heating up.
Tips: 
 Be mobile and move around for the most success. The dry fly fishing will continue to be good, especially in the later mornings.  Nymphing will be the most successful method at this time, but its a great time to throw some streamers too.
Weather: 
  It definitely feels like fall, especially in the mornings. We will continue to see some absolutely gorgeous early fall weather over the next week. Today and Saturday will be pretty windy. Highs will be in the 70's with morning lows in the low 40's/High 30's. There does not look to be a lot of chances for rain, buts its always a good idea to keep an eye out for that rogue storm. This time of year its a good idea to have some warmer clothing options with you...Just in case.  In all, it about as perfect "fall" weather as we could ask for. Get out there!
This is an area we offer guided fly fishing trips. We are one of two outfitters permitted to operate in Cheesman. There is not better way to learn an area like Cheesman Canyon than hiring one of our Orvis endorsed professional guides!
RECOMMENDED PATTERNS 
For a custom fly assortment for this location, click here! 
Our Top 6 Nymphs for Today:
Stalcups baetis, green-sizes 20-22

RS2, black, cream. Sizes 20-22

Worms, all colors. Sizes 12-16

Pheasant tail, natural. sizes 18-22

Juan splitback PMD. Sizes 18 & 20

Foamback Emerger, brown. Size 22

 
Our Top 6 Dry Flies for Today: Dry fly fishing will subside a bit with these flows
Mole Fly, brown. Size 22

 

Neil's BWO, green. Sizes 22 & 24

Matt's Midge, black. Size 22

Iwane Dun, green. Sizes 22 & 24

Comparadun, green. Size 22

Amy's Ant, green, red, purple. Sizes 14-12
Our Top Streamer Patterns for Today:
Wooly Buggers, black, green, brown, Natural. Sizes 12-8
Baby Gonga, brown, grey. Size 6
Zoo Cougar, Olive. Size 6
We are keeping a close eye on the canyon and will definitely update the angling community as things progress.
Trout Unlimited is also recommending giving the area a break (9/9/23)
PLEASE be vigilant and get out of the canyon if the rain becomes heavy.
There are many options for fishing in the area. Deckers, 11 mile canyon, and even the Dream stream (Only in the mornings) are all fishing well. Or, try your hand at some of the smaller creeks that are scattered about the area.
Standard nymph rig set up for the South Platte:
BE SURE TO CHECK OUT OUR "WHERE TO GO" PAGE FOR DETAILED INFORMATION ON OTHER AREAS!
Cheesman Canyon is one of the most technical and rewarding tailwater fisheries in Colorado. A half-hour hike from Gill trailhead through some hilly terrain gets you to the base of the canyon where the trail splits into a high road and low road. This stretch of the river is catch and release only and is known for holding large rainbows. Almost the entire length of the river that runs through this gorgeous boulder-filled canyon is loaded with deep pocket water and fast runs that provide different challenges depending on where the fish are located. Most of the time the fish are hanging close to undercut boulders and other structure.
Before going to Cheesman, load your box with these patterns: Cheesman Emergers #22-24, Amy's Ants #10-14, hoppers #8-10, Murphy's Bubbleback Midge #20-24, Blindside Midges #20-22, Dorsey's Top Secret and Medallion Midges #22-24, Stonefly nymphs #14-18, Caddis larva #16-20, Tan and orange scuds #14-18, Sparkle Wing RS-2's #18-22, BWO Barr's Emergers #20-22, Copper Johns, Black Beauty #22-24, and Stalcups baetis #20-22.
This is an area we specialize in and are permitted to guide in, so give us a shout if you have any questions or if you're interested in working with one of our Orvis- Endorsed guides to conquer Cheesman.
My favorite stretch of the South Platte. What can I say: technical, challenging, humbling, and rewarding. It is often said that if you can catch fish in Cheesman Canyon, you can catch fish anywhere.

Jon Easdon, Guide and Director of Services
Accessibility: There is a 1.5 mile trail from the parking lot on Co 126 to the river.  At the river the trail splits into a high and a low section that runs approximately 5 miles upstream from the Wigwam Club (posted) to Cheesman Dam.
Elevation: 6,600 ft
Distance: 42.5 miles from Colorado Springs / 55 minutes .
Season: Fishable all year depending on flows
Fish species: Brown, Rainbow, Cutthroat and Cutbow trout
Fishing Regulations: Catch and release, flies and lures only
Techniques & Tips: Fishing is technical and calls for 9-12 foot leaders and  fine tippets - 5X to 6X
Camping: Not in the canyon, though there is camping nearby at Lone Pine and Wigwam Campgrounds on Co 126.
Kids: Yes, but parts of the trail going down to the river can be very steep.
Additional Information: Cheesman Canyon can be crowded, especially in the summer.  The further upstream you walk, the fewer crowds you will encounter.
South Platte River – Cheesman Canyon.
Interested in Booking a Trip?
Directions

 - 42.8 miles - 55 Minutes
From Angler's Covey head west on US 24 W/Cimarron St, go 16.7 miles
Turn right at CO-67 towards Deckers, go 23.1 miles
Slight left at the town of Deckers and CoRd 126, go 3.0 miles
Parking area is on the left