Stillwater: the new frontier in flyfishing. Or is it?
Stillwater has been a passion of ours for many years. It offers a way to grow the adventure of fly fishing with different challenges to meet and different rewards than anglers receive on our rivers and streams.
It seems others are beginning to see the beauty in this option. The variety and sheer number of locations provide solitude, give us a much needed break from the crowds, and offer a nice alternative to extremely light terminal tackle.
Our area is home to some of the most magnificent trophy trout fisheries in the world. Whether fishing by belly boat, kayak, motor boat, or from the banks, stillwater is accessible to anyone.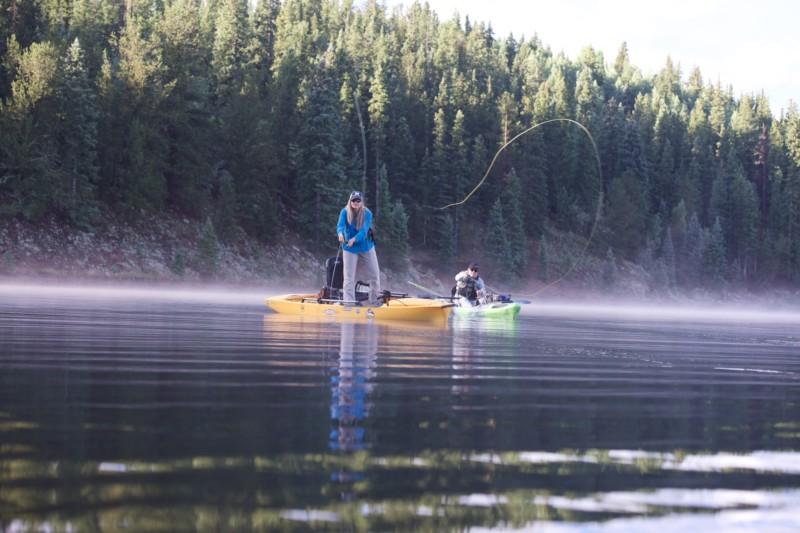 We wanted to make it easy for anglers to gear up for their stillwater adventure, so we have dedicated a section of our retail floor to stillwater gear. "Stillwater Wall" is near the waders and packs as you make your way through the store.
The "Stillwater Wall" has larger fly boxes and boat boxes specific to stillwater flies. Fishing from kayaks allows you the freedom to carry larger boxes loaded with bigger streamers and patterns. Come in and check out our selection of Umpqua fly boxes and the Simms Dry Creek Boat Bag.
We also carry fins for float tubes. We carry whistles -- which are required to be carried by boaters in our state parks, at Spinney and Elevenmile. And we work in partnership with our sister shop, Pikes Peak Outfitters, for your PFDs.
Be sure to check out our newly expanded stillwater fly bin with a wide selection of patterns.
People now have a stillwater home when they shop at Angler's Covey.